News
2017 | 2016 | 2015 | 2014 | 2013 | 2012 | 2011 | 2010
January 2017
CBCA Celebrates Ten Years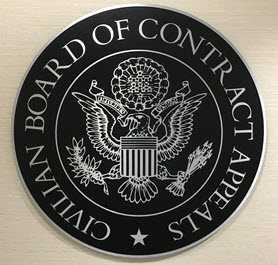 The Civilian Board of Contract Appeals (CBCA) recently marked ten years since it was established by Act of Congress in the National Defense Authorization Act of 2006. That Act abolished existing boards of contract appeals for most civilian agencies, folding their judges, staff, and jurisdiction into the new CBCA. In the years since its creation, the CBCA has docketed more than fifty-six hundred cases and resolved over fifty-three hundred of them. Nine of the original judges from the prior Boards have moved on to retirement or other pursuits, and one has passed away. Seven new judges have been appointed to the Board. Over the last ten years the Board has also hosted fifty-seven law clerks from law schools near and far, and more recently, seven honors attorneys, new graduates who serve one year with the Board. Our clerks and honors attorneys have gone on to positions throughout the government contracts bar, and one former law clerk has come full circle, being among the seven new judges appointed to the CBCA.
Judge Richard C. Walters Retires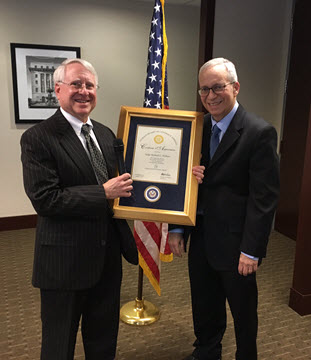 The judges and staff of the CBCA recently bid farewell to Judge Richard Walters on the occasion of his retirement after 25 years of Federal service, and a legal career stretching past 45 years. Judge Walters graduated cum laude from the University of Pennsylvania Wharton School with a Bachelor of Science in Economics. From there he went on to attend the University of Pennsylvania Law School, where he served on the Moot Court Board. Over the next twenty years, Judge Walters' career spanned both government service and private practice. He served with the Department of the Navy, followed by several law firms ending with Piper & Marbury where he practiced until 1997, when he became a Dispute Resolution Officer with the Federal Aviation Administration's Office of Dispute Resolution for Acquisition. He served with the FAA until 2004, when he became a member, and eventually Vice Chairman, of the Department of Veterans Affairs Board of Contract Appeals, where he served until that board became part of the newly established CBCA in January 2007. Throughout his career Judge Walters made alternative dispute resolution a key facet of his practice, and he became a well-known expert in the area as it evolved from novel to normal in government contracts law. He served in many positions on the Interagency ADR Working Group, including Chairman, and authored numerous articles on ADR, as well as government contracts and construction law. He was also editor for several editions of Alternative Dispute Resolution: A Practical Guide for Resolving Government Contract Controversies. Judge Walters also served as co-Chair of the ABA Public Contract Law Section, ADR Committee, and president of the Board of Contract Appeals Bar Association. Judge Walters was a valued colleague and friend for just a handful of days short of ten years at the CBCA, and the judges and staff of the CBCA wish him all the best.